There are NO alerts at this time.
SMART maintenance will be conducted on the third Friday of each month from 6 PM to 10 PM. Please share this information with others and contact the SMART Help Desk if you have any questions.
SMART Help Desk 301.405.4870 or email: igsrsupport@umd.edu
The Institute for Governmental Service and Research provides numerous resources to encourage the implementation and efficient use of SMART through its training efforts. Training for SMART is delivered through a collaborative effort between the Institute and its partners--- the Maryland Judiciary, Office of Problem Solving Courts (OPSC), the Department of Health and Mental Hygiene, Behavioral Health Administration (BHA), and the Behavioral Health System Baltimore (BHSB).
The SMART Training Team is committed to providing public service agencies with the knowledge, skills and materials to integrate SMART into their agency's business practices and helping them effectively measure and improve performance to meet local, state, and other requirements. SMART users can get assistance with both scheduled and customized training and are encouraged to contact the SMART Help Desk via email (igsrsupport@umd.edu) or phone (301.405.4870).
The SMART Training Life Cycle
The SMART Training Process includes preparation, implementation, process improvement, and results/success phases.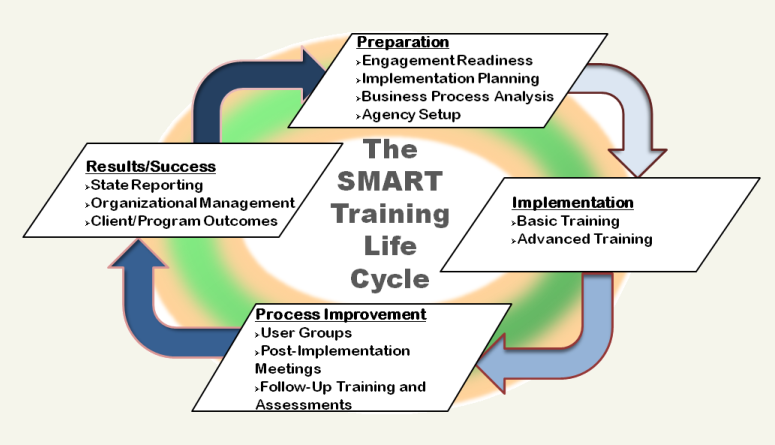 To get immediate help with specific SMART topics, you can also refer to SMART Resources presented on this website.
For more information about SMART Training, contact us via email (igsrsupport@umd.edu) or call 301.405.4870.