Sustainable Community
Development
Lesson One - Three Systems of Sustainability
Lesson Two - Why Plan for Sustainability
Lesson Three - Sustainable Community Development Plans
Lesson Four - Maryland Resources
Lesson Five - A Process for Sustainable Community Development
Review
Certificate
Sustainable Community Development
An online class offered by the University of Maryland's Institute for Governmental Service and Research.
Introduction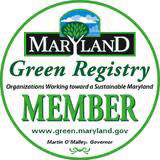 This class emphasizes community-level decisions to solve sustainability problems. It suggests practical, grassroots methods to plan, organize, evaluate, and adjust actions to advance community sustainability. And it provides a path for Maryland's municipalities to become certified as sustainable jurisdictions.
Upon completion of this virtual class, you will be able to:
Define sustainable community development (SCD)
Identify opportunities for sustainability in local communities.
Understand the three overlapping systems involved in sustainable community development, and how they relate to each other.
Understand what local communities are doing about sustainability.
Identify resources to help municipalities plan for development.
Describe processes for initiating, managing, and evaluating sustainable development.
Understand how Maryland municipalities can become certified as sustainable jurisdictions.
Understand the benefits for a community to become Sustainable Maryland Certified.